She has been my favourite actress since I saw her in 'The House Bunny' (brilliant film) and then in my all-time favourite, 'Easy A'. But she is now most known for playing the lead role in Oscar-Winning film 'The Help' and now in the latest Spider Man film with Andrew Garfield.
In her previous films, Emma usually plays an average teenager with an average fashion sense, such a jeans and plain T-shirts, accompanied by her dyed red hair and loose waves. I was surprised to find out that she is not a natural red-head!
Recent photos of Emma at events and premières shows her going back to her roots (pardon the pun) and bringing out her natural blonde hair. I think that it really suits her, although she is more recognisable as a red-head.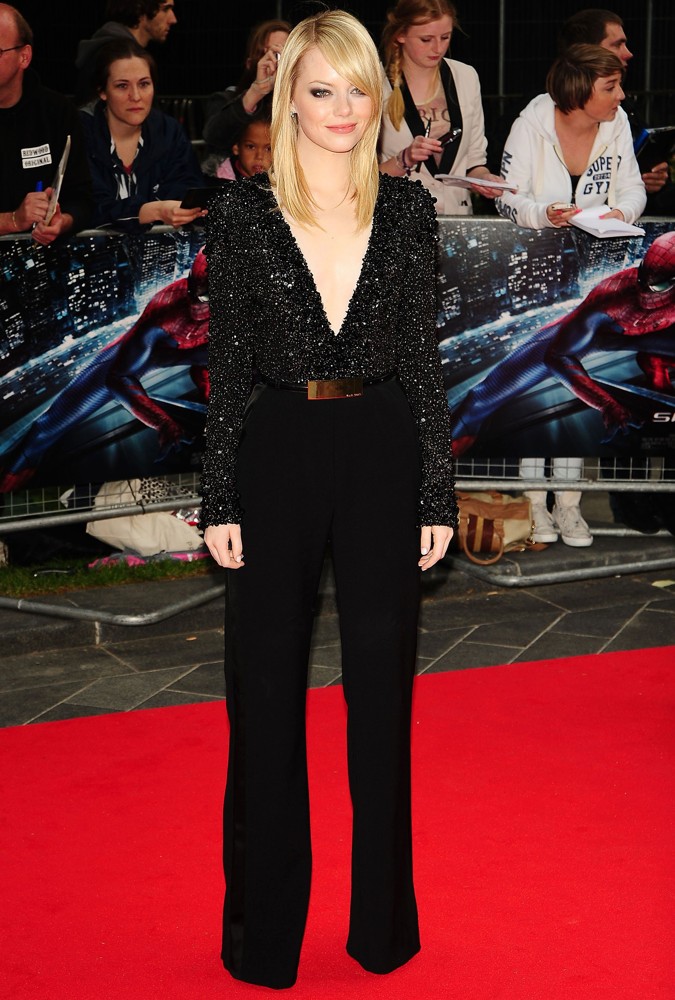 source
Here, at the UK première of The Amazing Spider Man last week, Miss Stone opted for an Elie Saab plunging neckline jumpsuit. In my opinion, the trousers were a bit too long (think back to Cheryl Cole's X Factor USA fashion disaster), but due the the detail in the upper half of the jumpsuit, she still looked amazing. I also like the minimal accessories and simple hair.
source
Emma's jumpsuit on the runway, by Elie Saab
source
Emma in a Fendi dress and Stella McCartmey heels
source
Emma in a Bottega Veneta gown with Louboutin heels
source
For

the Paris première, Emma wore this AMAZING Gothic plunging neckline gown from Gucci. She looked absolutely wonderful in every photo.