A note from Joelle...
I am really impressed with Mel Boteri's handbag range. I have to admit that I had never heard of this designer until a month ago, but I am glad that I know all about her now. If you are a leather lover like me and also like feminine glamour, then this is the designer for you!
About Mel Boteri (aka Melanie Mueller) and her line:
Mel set up her line in 2009

All of her pieces are hand crafted and totally one-off.

The pieces are 100% real leather were handmade in Portugal.
Love it already? Just wait until you see what the pieces actually look like! Here are a few of my favourites from the Bag Servant Site: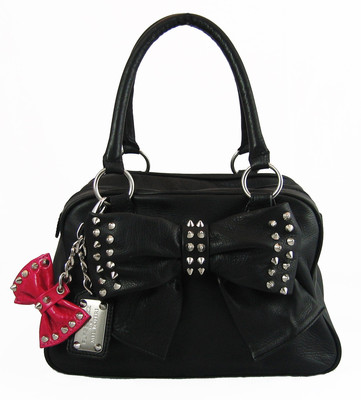 Pursebuzz for Mel Boteri Classic Black Elese Satchel
Source
This is a great handbag. The studs are a fashionista's best friend this season and the pink leather studded bow makes it a touch more feminine. It is large enough to fit in all our girlie essentials, oh and work/school files as well! I wouldn't necessarily call this a 'satchel', but it's a fabulous shoulder bag tote made of very fine leather and looks stunning. I WANT IT!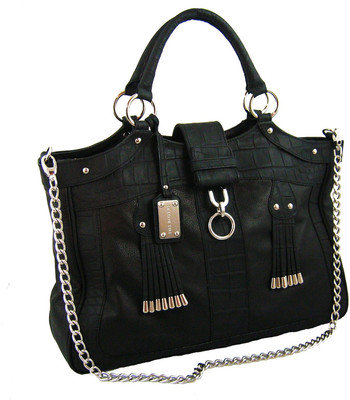 Mel Boteri Everyday Black Boteri Tote
This is for the kind of woman that wants a sturdy and practical bag, but who also wants a bit of fun and a touch of glamour to her tote. Made on black calf-skin leather and a turquoise suede interior, this bag is smooth, sturdy and a must-have for It-Girls trotting around their city
!
This is my favourite piece by far. I like how it's called 'Winston' because it looks quintessentially British - Sturdy, elegant and sophisticated (well, most of us anyway!) Also, brown leather and animal print go so well together in my opinion.
It is called a men's portfolio, but us lasses can easily rock this as a clutch for work/meetings, right?
If you hadn't guessed already, I really like these pieces and they make great investment pieces.
In relation to 'accessorising', it is great to mix high-street bargains and luxury pieces to get an all-round fabulous outfit ,and Mel Boteri offers both sassy and classic styles to suit all kinds of woman.
What do you think? Let me know below!