Herden Top Vertigo and Ms Q Vertigo Trousers
I am so happy right now. I FINALLY found the designers behind
Nanna Bryndís Hilmarsdóttir (lead singer of Of Monsters And Men)'s Glastonbury outfit. You might be
thinking 'who cares about some random singer's outfit?' But I do. It was a gorgeous flurry of watercolours and
was a silk crop-top and trousers.
I literally went crazy typing in everything I could on Google. I even tweeted Nanna on twitter, but alas, no reply.
I tried again a few minutes ago and it came up with the Facebook page for Icelandic brand KronKron. I clicked
on
the link and I found the outfit!! I was so happy it was unreal.
Nanna wore this so well and made it casual with leather army boots, whilst performing with the rest of Of Monsters And Men.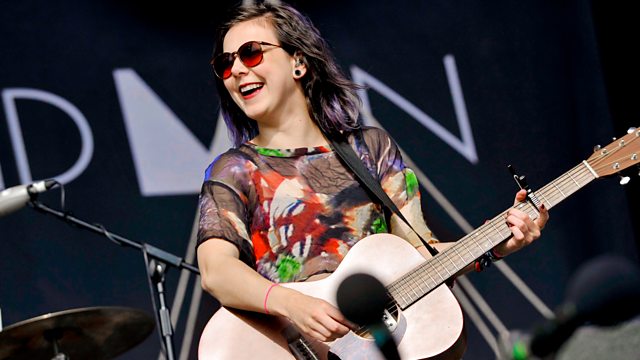 It's really nice to see Nanna supporting her national Iceland fashion brands. I, for one, am so glad to have discovered KronKron because their clothing and shoes are so special.
I love this on too! Just look at the colours and the silk!
Check out their links below and get lost in the colours and amazing shoe designs!