A note from Joelle...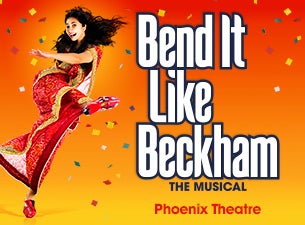 I saw the film 'Bend It Like Beckham' once when I was about ten. I enjoyed it, but didn't think there was anything truly amazing about it. A Sikh girl defies her traditional family to become a talented footballer and gets with her best friend's crush.
It was a good film, but not exactly a timeless classic, in my opinion.
So when I heard that the film's director, Gurinder Chadha was turning her film into a West End musical, I was like, "why?".
Then after reading the rave reviews from the preview shows, I knew I had to buy tickets and see what all the fuss was about for myself.
What would the original songs be like? How will the actors stop footballs from flying into the audience? Can the charm of the original film be replicated on stage?
In all honesty, I wasn't expecting to love it as much as I did. The cast's energy was really refreshing.
However, throughout the show, I kept thinking to myself "I don't think I've seen a West End Show with an Asian in a leading role. In fact, I don't think I've seen a show that stars South East Asians in main roles. That really shocked me.
Diversity in theatre has indeed progressed, but still has a very long way to go.
- the songs were catchy and memorable (very rare with new musicals)
- the choreography was excellent
- The (often dry comedy) was genius
- The beautiful Indian costumes
- The fusion of Pop and Bhangra was wonderful and not the cheesy mess I was expecting.
- Jamie Campbell-Bower is in it. Some may say that's a really random casting, seeing that he's a big film actor, but it works!
Most importantly it felt like I connected with the storyline again. I understood Jess' determination to follow her passion, but I totally understood her father's concerns about the challenges Jess would face, not particularly as a female, but by being a minority in the UK.
The music isn't cheesy (I honestly thought it would be!) and the special
No doubt, the star of the show is Tony Jayawardena, who plays Jess' dad, Mr. Bhamra. Those notes he was hitting gave me goosebumps all the way up in the grand circle. His comic timing had the audience howling too!
A solid 4/5 from me.
I recommend you come to London and see it for yourselves. I'm really glad I took a chance on it and can't wait to see it again this Christmas!
It would have been a 4.5 if the theatre wasn't an absolute nightmare to find and if there hadn't had been a fire drill straight after the curtain call!
www.benditlikebeckhamthemusical.co.uk/tickets/