A note from Joelle...
This show is not about chickens.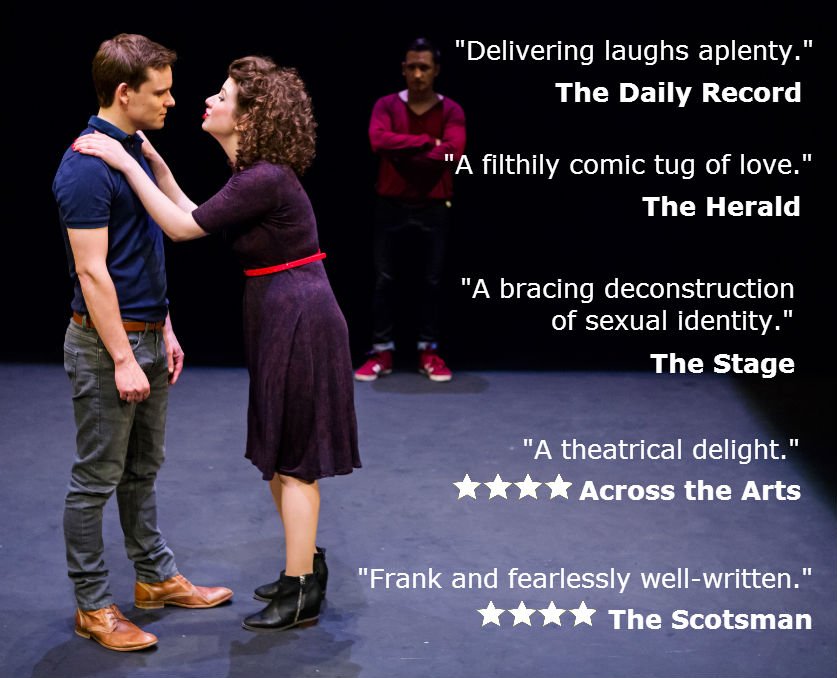 I love spontaneous theatre trips. I do it all the time in London - picking a fringe show that sounds interesting (if i'm in the area) and then heading down there to soak up the often intense performance and the intimate atmosphere.
From the name of the show, you'd think the play would be a hard-hitting, avant-garde piece, full of rawness and extremes. Yes, it's thought-provoking and intense, but it boils down to a classic love-triangle.
John is in a longterm relationship with M, an older man, with whom he shares a nice flat with.
Within the first 30 seconds of the show, you can hear, see and feel the tension between the couple, as M uses belittling and patronising language at John, causing the audience to immediately feel sorry for him.
Perhaps that's why when John admits he's been sleeping around, it's not met with sighs or any kind of shock from the audience - we are automatically on his side for the first quarter of the performance.
But as it progresses and the situation growing more hilariously complex, there's a dramatic change.
John falls in love with a woman, W, which (obviously) complicates things. Everyone (including himself) though he was a gay man in a committed relationship. John is clearly struggling with his identity.
What's interesting is that he is the only named character in the play, which I guess is ironic as he is the only one without a proper identity. John is indecisive and flimsy compared to the other three characters who constantly talk at him and try to convince him to sort himself out.
From looking around the audience, I noticed that COCK's content affected us all in different ways. My friend and I sat attentively, often giving each other the side-eye when something super-relatable came up.
The two elderly ladies beside us roared, screamed and hollered at practically every joke and sexual phrase, as if they had been transported back to a strict all-girls school. It was weird to see them react that way, but somewhat refreshing.
The students behind us were equally as loud and entertained by the comedic dialogue.
The most interesting thing was the elderly gentleman in front of us who was clearly uncomfortable with the gay relationship. So much so, that he tried to shield his wife's eyes when the two male characters hugged and attempted to kiss.
At first, I was annoyed because who the fuck chooses to sit front row and behaves like that? Did he really think the show would be about chickens, or something? Would he have acted the same way if it was a straight couple or even two women? I was fully of questions.
It goes to show that different generation behave in a different way when it comes to talking/performing homosexual relationships. But I think things are moving forward if my generation is anything to go by.
Whether you think John made the right decision or not by choosing to stay with M, no one can deny that the ending is very powerful. In a way, he finds himself back to square one, which is kind of what his partner wanted - normality. But it's clear he's not the same John any more.
Love is not as simple as just liking men or just being into women. It can be a lot more fluid, and less gender-biased as the character, John finds.
It's not just heterosexual relationships that face rocky situations and I feel that lots of people forget that or are blissfully ignorant.
COCK proves that you don't need props, fancy costumes or a big stage budget to create a powerful stage drama. The minimalist setting allowed the audience to actually listen to the dialogue without distractions. However, I would have liked more fluid movement between the characters and scene changes, but overall, the play did what it set out to do: challenge our perceptions of what sexual identity is all about, if it is about anything at all.